On my Canvas: Independence Day 2020 with visionary artist Larissa Davis
Freedom
---
Yesterday being the day we celebrate the founding of the United States of America, I was inspired to reflect on the big promise of this country: freedom.
Setting aside arguments and political positions, I feel that the promise of this country is inspired, and still something to which to aspire. And on a personal level, I am committing to freedom in many new ways in my own life.
— I am freeing myself from the ideas and patterns that kept me from being me
— I am committing to freedom of choice and my right to decide the course of my life
— I am freeing myself from fear in all forms
— And I am freely and openly committing to the right of each person on earth to a life of prosperity, sovereignty, freedom, and happiness.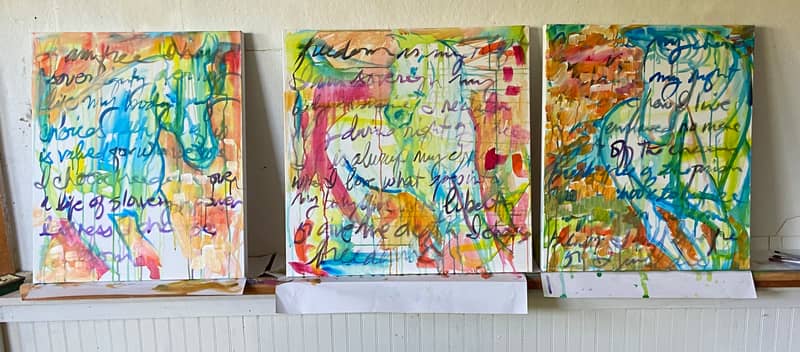 In progress
This reflection on freedom came through painting.
As a little background, in 2017 I began a series of paintings on this same theme which became the triad of Freedom Horses: Freedom: Release, Freedom: Passion (private collection), and Freedom: Joy (private collection).
What emerged on my canvas is a new, smaller-scale series of Freedom Horses (watch their progress below). Why blue horses? I chose blue partly because I was entranced, at the age of 15, by Franz Marc's Cheval Blue. It is also the color associated with self-expression and the throat chakra.
40-second video of the new Freedom series in progress.
Freedom exhibit



Continuing the theme of Freedom, I am honored to be partnering with Dr. Abby Power of Lifeworks Chiropractic Center​ to create an extensive exhibit of my work in her healing space in Falmouth, Maine. The exhibit is on the theme of Freedom andopens on Friday,July 31 with an event (social distancing observed and masks required) that promises to be fun and powerful. This is a unique opportunity to see a large volume of my workin a single setting (20+ pieces!*), andlearn about Abby's unique Network Chiropractic services which have supported me and my family since 1999. Mark your calendar.
—Larissa
---
​If you are interested in an original but not sure how to make it happen, email me to discuss payment plans, art leasing, and lease-to-own possibilities. And you can always arrange a private showing.